They shall grow not old, as we that are left grow old
Total Members: 68,523
Total Posts: 1,446,084
Total Topics: 71,696
Total Categories: 13
Total Boards: 124
The Royal Regiment of Canada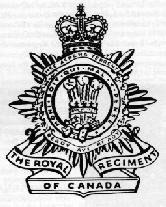 ---
Armorial Description
An eight-pointed star surmounted by the Crown; superimposed upon the star the garter with the motto HONI SOIT QUI MAL Y PENSE flanked by sprays of maple leaves; below the garter a scroll inscribed READY AYE READY; above the garter a scroll inscribed NEC ASPERA TERRANT; within the garter, the badge of the Heir Apparent (three feathers enfiled by a coronet with a scroll inscribed ICH DIEN. The whole resting upon a scroll bearing the designation THE ROYAL REGIMENT OF CANADA.
---
Official Abbreviation: R Regt C

Motto: Ready Aye Ready, and Nec Aspera Terrant (Difficulties do not daunt)
---
Battle Honours (46)
Early History
FISH CREEK
BATOCHE
NORTH-WEST CANADA, 1885
SOUTH AFRICA, 1899-1900
First World War
YPRES, 1915, '17
Gravenstafel
Arleux
ST. JULIEN
Hill 70
Scarpe, 1917, '18
FESTUBERT, 1915
PASSCHENDAELE
MOUNT SORREL
SOMME, 1916, '18
AMIENS
Drocourt-Queant
Pozieres
Flers-Courcelette
HINDENBURG LINE
Canal du Nord
Ancre Heights
Cambrai, 1918
ARRAS, 1917, '18
VIMY, 1917
Pursuit to Mons
France and Flanders, 1915-18
Second World War
DIEPPE
Woevsdrecht
Bourguebus Ridge
FAUBOURG DE VAUCELLES
VERRIERES RIDGE -- TILLY-LA-CAMPAGNE
THE HOCHWALD
FALAISE
SOUTH BEVELAND
THE RHINELAND
Falaise Road
Goch-Calcar Road
Clair Tizon
Foret de la Londe
Dunkirk, 1944
THE SCHELDT
XANTEN
TWENTE CANAL
Groningen
Oldenburg
North-West Europe, 1942, 1944-45
---
Order of Precedence: 6
---
Options:
---
Go back to the Infantry Regiments page.
Go back to the Army home page.
August 22
1485:
The Battle of Bosworth Field decisively ends the War of the Roses.
1642:
Charles I calls the English Parliament traitors. Beginning of the English Civil War.
1775:
King George III declares the American colonies to be in open rebellion.
1798:
French troops land in Ireland to aid the Irish Rebellion.
1864:
Twelve nations sign the First Geneva Convention. The International Red Cross is formed.
1875:
The Treaty of St. Petersburg between Japan and Russia is ratified. Japan ceded Sakhalin to Russia in exchange for the Kuril Islands.
1910:
Japan annexes Korea.
1914:
In Belgium, British and German troops meet in battle for the first time in World War I.
1916:
Lloyd-George announces 35 Zeppelins destroyed by the Allies
1941:
German troops reach Leningrad, leading to the siege of Leningrad.
1942:
Brazil declares war on the Axis powers (Germany, Italy and Japan)
» Download the iPhone/iPad Military History app! «