They shall grow not old, as we that are left grow old
589 Guests, 23 Users (6 Hidden)
Ludoc, Quiet~One, E.R. Campbell, CAF Applicant 2001, Old Sweat, sidemount, Jayjaycf, mariomike, SupersonicMax, donaldk, Blackadder1916, Hamish Seggie, garb811, TheHead, Colin P, kkwd, PuckChaser
Total Members: 73,320
Total Posts: 1,461,822
Total Topics: 71,982
Total Categories: 13
Total Boards: 124
The Royal Regiment of Canada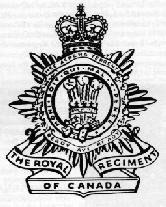 ---
Armorial Description
An eight-pointed star surmounted by the Crown; superimposed upon the star the garter with the motto HONI SOIT QUI MAL Y PENSE flanked by sprays of maple leaves; below the garter a scroll inscribed READY AYE READY; above the garter a scroll inscribed NEC ASPERA TERRANT; within the garter, the badge of the Heir Apparent (three feathers enfiled by a coronet with a scroll inscribed ICH DIEN. The whole resting upon a scroll bearing the designation THE ROYAL REGIMENT OF CANADA.
---
Official Abbreviation: R Regt C

Motto: Ready Aye Ready, and Nec Aspera Terrant (Difficulties do not daunt)
---
Battle Honours (46)
Early History
FISH CREEK
BATOCHE
NORTH-WEST CANADA, 1885
SOUTH AFRICA, 1899-1900
First World War
YPRES, 1915, '17
Gravenstafel
Arleux
ST. JULIEN
Hill 70
Scarpe, 1917, '18
FESTUBERT, 1915
PASSCHENDAELE
MOUNT SORREL
SOMME, 1916, '18
AMIENS
Drocourt-Queant
Pozieres
Flers-Courcelette
HINDENBURG LINE
Canal du Nord
Ancre Heights
Cambrai, 1918
ARRAS, 1917, '18
VIMY, 1917
Pursuit to Mons
France and Flanders, 1915-18
Second World War
DIEPPE
Woevsdrecht
Bourguebus Ridge
FAUBOURG DE VAUCELLES
VERRIERES RIDGE -- TILLY-LA-CAMPAGNE
THE HOCHWALD
FALAISE
SOUTH BEVELAND
THE RHINELAND
Falaise Road
Goch-Calcar Road
Clair Tizon
Foret de la Londe
Dunkirk, 1944
THE SCHELDT
XANTEN
TWENTE CANAL
Groningen
Oldenburg
North-West Europe, 1942, 1944-45
---
Order of Precedence: 6
---
Options:
---
Go back to the Infantry Regiments page.
Go back to the Army home page.
February 17
1775:
The Queen's Rangers finish clearing a path from York (Toronto) to Lake Simcoe, which is then named Younge Street. It has taken the troops the better part of a year to complete the new road, labouring through intense cold, hilly terrain, and dense h
1839:
New Brunswick militia called up to defend Aroostook in the war with Maine
1870:
Louis Riel's provisional guardsmen arrest 48 armed men at Upper Fort Garry.
1917:
Flt. Lt. Hugh Aird of Toronto takes part in a bombing mission against the Buk bridge in Macedonia. Aird drops three 100-pound bombs on the bridge, preventing its further use by the Turks.
1919:
Sir Wilfrid Laurier (Canada's 7th Prime Minister) dies. He is interred at Notre Dame Cemetery in Ottawa.
1937:
The destroyers HMCS FRASER and HMCS ST LAURENT were commissioned at Chatham, England.
1939:
The Royal Canadian Air Force receives its first delivery of Hawker Hurricane fighters, intended to replace severely outdated aircraft of the time. this was just intime for the begining of the 2nd world war.
1944:
HMCS ALGONQUIN (Destroyer) is commissioned at Glasgow, Scotland.
1944:
Japanese naval base at Truk, Caroline Islands, destroyed by US carrier-borne aircraft
» Download the iPhone/iPad Military History app! «